Roman Vishniac Rediscovered
Two masters of modern photography are on view at the International Center of Photography; Chim (Szymin); aka David Seymour and Roman Vishniac.  They are both Jewish and just happen to bring astute but radically different visions to Jewish photographic subjects. These brilliant, exhaustive exhibitions help us examine the fundamentals of what it means to create a Jewish Art in photography. While Roman Vishniac (1897-1990) is the photographer most associated with pre-war Eastern European Jewry, tragically his documentation of that world became its eulogy. In this expansive exhibition curated by Maya Benton at the ICP the enormity of the Holocaust is inescapable. With the recent discovery of much unknown and unpublished work, this groundbreaking exhibition radically reassesses a 20th century master, who focused on European Jewish life in a much wider and complex scale than ever imagined.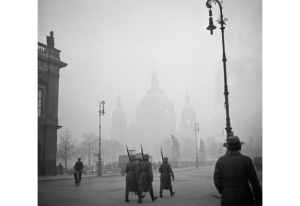 Vishniac was born in 1897 to an affluent Russian Jewish family and grew up in Moscow, eventually becoming a biologist. During the Bolshevik Revolution in 1918 his family fled to Berlin because of anti-Semitic attacks.  In Berlin he quickly developed into an accomplished amateur street photographer reflecting Weimar Modernist technique. One such image taken in the late 1920s-early 1930s is the interior of the Anhalter Bahnhof train station.  This austere image taken from above features three figures in complete silhouette.  It captures just enough of the figures to spin a mystery as to their disparate missions, even while emphasizing the abstract quality of the long cast shadows and silhouetted architecture.  It is quite a modern masterpiece.
As Vishniac developed as a photographer the world around him was becoming Nazified.  He took it upon himself to document the rise of Nazi power, focusing on the everyday incursions: anti-Semitic posters, swastika flags and graffiti.  Nazi Storm Troopers Marching in Berlin (1935) is a brilliant example, framing a mere 3 soldiers marching, framed by streetlight poles and against a foggy Berlin Cathedral in the background.  It is understated, subtle and terrifying.
In 1935 the American Jewish Joint Distribution Committee (AJDC) commissioned Vishniac to document remote Carpathian Ruthenia Jewish communities as part of fund raising and relief efforts for Eastern European Jewry.  Further trips were undertaken at the behest of the AJDC to record the incredible poverty and suffering of Jewish life in Warsaw, Krakow, Lodz, Munkacs and Bialystok among other locations.  These images are among Vishniac's most well known.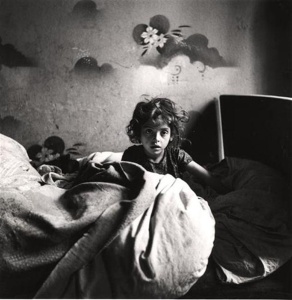 One 1938 project was "A Pictorial Visit to the Jewish Children in Poland," a collection of 90 photographs and captions by Vishniac that document the "hunger, fear and disease that stalk through the Jewish streets in Poland."  In this photographic essay Vishniac charts the progress from urban poverty to the relative joy of the AJDC summer camps run to give Jewish children a respite from their grim homes.
His work of these years was extensively used for AJDC fundraising as well as an award winning 1983 book A Vanished World. His uncanny ability to engage and earn the trust of his subjects, child and adult alike, is not to be underestimated.  Many of the images are of children and adults living in squalid basement dwellings.  "Since the basement had no heat, Sarah had to stay in bed all winter. Her father painted the flowers for her, the only flowers of her childhood. Warsaw 1939."  It should be noted that in light of research by curator Maya Benton, many of Vishniac's captions that accompany the images cannot be taken as factual reflections of the photos, rather they express the general plight of the oppressed Jewish population.
Exactly how Vishniac, a non-observant Jew, gained access to so many Hasidic homes, synagogues and houses of study is an open question.  Generally these communities are suspicious of outsiders and some even consider photography a forbidden kind of graven image.  Nonetheless, he managed to open many doors and gain the trust to capture an important slice of Jewish life.  In Munkacs he records that he happened upon a man, a cantor, who became his guide.  The image of Jewish Schoolchildren, Munkacs (1935-38), one of Vishniac's most published, brims over with childish enthusiasm and curiosity, most probably due to the presence of the photographer himself.  Yet the other narrative here of the clean-shaven man grasping the arm of the surprised yeshiva student echoes the kind of modern intrusion that the entire scene represents.  It is a magical moment of revelation that only a highly sensitive eye could know how to capture.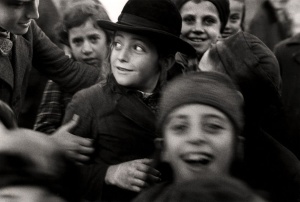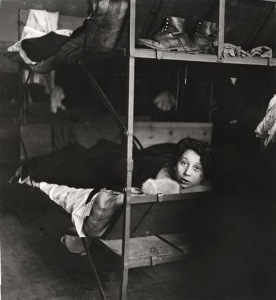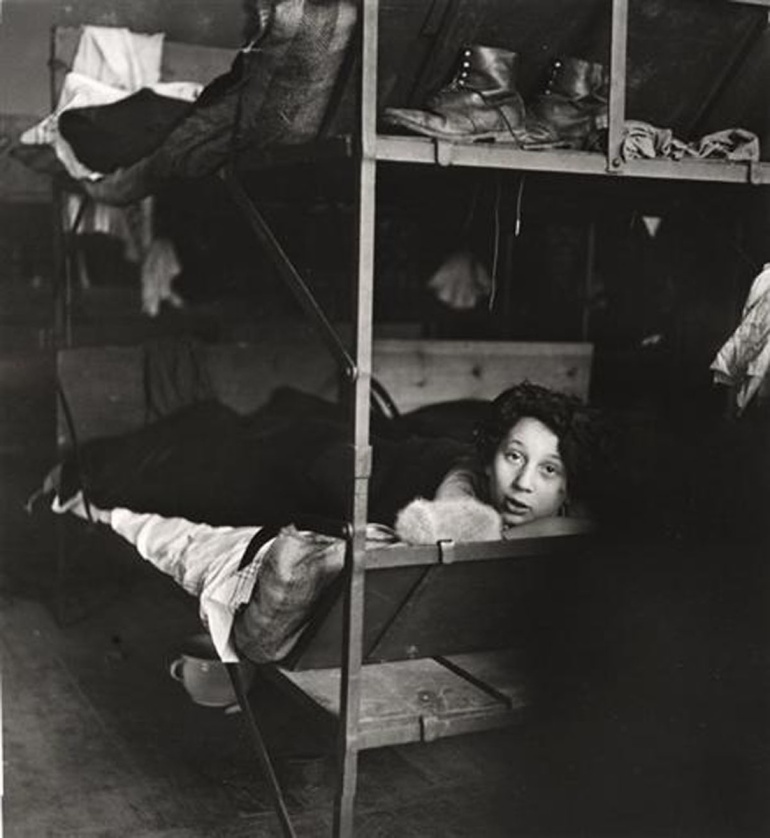 Vishniac was an activist passionately dedicated to helping his fellow Jews by documenting to the outside world the terrors of living under Nazi rule.  In October 1938 the SS deported 17,000 Polish Jews who had been living in Germany.  They were herded to the Polish border and dumped in Zbaszyn and other border towns.  Winter was approaching and conditions were terrible.  Vishniac slipped into the town to document the conditions and then escaped back out to send his films to AJDC in Geneva to publicize the conditions.  He took a tender photograph of 11 year old Nettie Stub peering out from a bunk bed that was widely broadcast by the Red Cross.  Later that year the Red Cross arranged for her to be rescued and brought to Sweden to safety. As I was viewing the exhibition I was told that Nettie's granddaughter had visited the show and confirmed that her 86 year old grandmother was still living in the Bronx. There is no doubt that Vishniac's image saved her life.
He subsequently documented Zionist youth training in 1939 Netherlands, Jewish refugees and displaced persons camps in 1947 Germany and France, the vast destruction of Berlin among many other subjects.  In his final years he returned to his love of biology, becoming a pioneer in the field of microphotoscopy.  Roman Vishniac was a remarkable photographer and this exhibition deepens and expands our understanding of his work.  His combination of a passion for documentation and a finely tuned aesthetic eye mark him as a modern master, the vast corpus of whose work we are just beginning to understand.