Etchings at Swann Galleries
"And it happened after these things that God tested Abraham and said to him, 'Abraham.'  And he replied, 'Here I am'" (Genesis 22:1). What was the nature of this test and, more to the point, isn't this test also a test of the Jewish people from generation to generation? When did the test really begin?  At that moment or perhaps years earlier. Rembrandt van Rijn (1606-1669), the great Dutch painter and printmaker, provides us with a fascinating answer in a series of three etchings seen at auction at the Swann Galleries.
Swann Galleries was founded in 1941 specializing in rare and antiquarian books and has since expanded to include photographs, autographs and, since the 1990's, prints, drawings and vintage posters.  It is now considered a world leader in the auction market for works of art on paper.   The auction held on May 1 consisted of 100 Important Old Master Prints and another selection of over 500 Old Master Through Modern Prints.  The premier exhibition of 100 old master prints included 33 works by Durer, 10 works by Piranesi, 3 Goyas and most notably, 37 etchings by Rembrandt.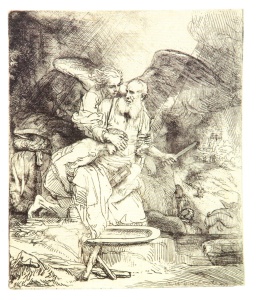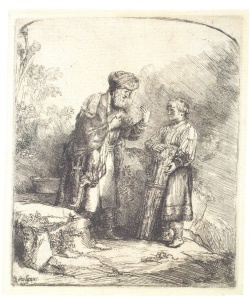 The Rembrandt etchings include genre, figurative, portrait, Christian and biblical subjects and span his career starting with youthful works done in his mid-twenties to mature masterpieces composed in his late 50's.  His biblical subjects consist of Joseph's Coat Brought to Jacob (1633), Joseph Telling his Dreams (1638), Abraham Caressing Isaac (1637), Abraham and Isaac (1645) and Abraham's Sacrifice (1655).  The last three represent a miniature narrative history of Abraham leading up to the climatic moment of his life, the sacrifice of his son Isaac.
The first two concerning the Joseph narrative are typical of early Rembrandt, filled with picturesque details, finely articulated characters and broadly expressive hand and facial expressions.  Jacob throws his hands up in despair and twists his head in anguish at hearing the alleged fate of his beloved Joseph.  Equally dramatic are Rembrandt's depiction of his jealous brothers. They listen with rapt attention, concern and finally anger as Joseph relates his prophetic dreams to their aged father Jacob. In many of his early narrative works Rembrandt seeks out the most dramatic moment to better capture what he perceives as the essence of the biblical narrative.  His later work shifts emphasis by concentrating on a subtler psychological tale, finding quiet moments to explore the complexities of a human drama.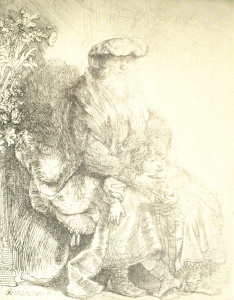 Abraham Caressing Isaac is a work of aching tenderness foretelling the final tragic test.  Its delicate and yet intense lines depict the aged patriarch seated with his child Isaac nestled between his legs as he strokes his curly locks. The boy, probably about five years old, is smiling broadly at something off to the side while Abraham looks directly into the viewer's eyes.
His gaze is a curious mixture of tenderness and paradoxical sadness.  First of all his hand clasps Isaac's chin affectionately, holding him close.  But revealingly beneath the shadows of his streimel-like turban Rembrandt's etched lines become thin and airy allowing Abraham's piercing gaze to dominate the scene.
Suddenly we know why he looks out at us rather than at his beloved son.  We know how God will test him in the years to come.  We understand how God had already tested Abraham with the promise of a son who would inherit the holy covenant with God.  Abraham had been patient and was finally rewarded with his son in his old age.  And yet as the boy grew, Abraham must have known that the testing was not over.
Rembrandt has seated father and son next to a cluster of flowers, some of which appear to be lilies. Combined with the apple Isaac is holding it is apparent that the artist is drawing on specifically Christian symbols (apple = Adam's Fall and Jesus' salvation; lily = resurrection) to link Isaac with Jesus. This form of typology is not uncommon in Baroque art that links the Lamb of God with the sacrifice of Isaac (see Caravaggio).  Nonetheless, Rembrandt's psychological narrative insight remains forceful and relevant beyond this theological context.
The next Rembrandt etching brings us immediately into the Akeidah narrative.  Abraham and Isaac have stopped along the way and Isaac has asked his father where is the lamb for the offering.  Abraham explains by pointing his finger heavenward that God will provide the lamb.
Isaac listens obediently, his face in a shadow of concentration as he holds the bound wood for the offering.  Abraham's gesture is doubly telling.  His left hand oddly hesitates with only one finger pointing up while the other three visible fingers are still extended but pulled back.  Nonetheless his right hand is the main actor narrating the image as he desperately grasps his chest directly over his heart.  In this dramatic gesture Abraham's inner pain is revealed even as he tells his son that God intends him for the sacrifice.
Finally there is the last etching from 1655 of Abraham's Sacrifice.  Abraham is caught in the arms of the angel who forcibly restrains him from slitting his son's throat. Everything is ready; the straight knife in his left hand, the oval basin to catch the blood (actually a more accurate understanding of a sacrifice than the Torah text itself), and in the foreground the basin containing hot coals for the altar fire.
In both a physical and psychological sense Abraham's position is uncertain and contradictory.  He appears to be half standing, half kneeling as his head twists to better hear the angel's message.  The angel speaks clearly into Abraham's right ear but our patriarch seems to have trouble understanding, his craggy cheeks and sunken eyes expressing doubt.  How could this be he asks, how could this test not be completed?
Rembrandt has taken the Torah at face value, insisting (as do many commentators) that Abraham did not flinch one moment in his faith and obedience to God.  While his enthusiasm is clear from his outstretched hand bearing the slaughtering knife, his love and compassion for his son is equally represented by his right hand that covers Isaac's eyes, shielding his beloved from the violence of slaughter.
The composition of this etching relentlessly directs our attention to the center; to the intense heads of the three actors, two in dialogue, one effaced by his father's protective hand.  The blinding band of light from above proclaims God's presence as the quartet of hands play out the heart of the narrative.  The angel's right hand holds Abraham's defending right hand while the angel's left hand subdues Abraham's hand of obedience.  Isaac's hands are hidden, the willing victim is not even bound.
This brilliant metaphor of hands has played an important role in all three etchings, offering a complex subtext to the overall images.  In the first image the Abraham the loving and yet troubled father is signaled by Isaac's both hands free and playful while only Abraham's right hand is supporting his son's head.  The left hand that will be the slaughtering hand is hidden.   In the next image both father and son's hands are fully visible representing mutual autonomy as they agree to submit to God's test.  Finally the four hands in the center of Abraham's sacrifice reveal a shift of narrative emphasis, actively bringing the divine (by way of His messenger angel) into direct relationship with Abraham.  Here Isaac has become an object, faceless and with hands hidden, powerless.  It is perfect visual metaphor for Isaac's disappearance from the text at this very moment.
It is highly unlikely that Rembrandt intended this narrative flow.  These works were done at separate times and under highly different circumstances over a period of eighteen years.  And yet we have derived a narrative meaning from them because we, like Rembrandt four hundred years ago, are deeply immersed in Torah and the struggles of parental love, obedience to God's will and God's continual tests of his created.  Abraham's test, as seen through the insightful eyes of Rembrandt, continues to be the tests and challenges of the Jewish people.
100 Important Old Master Prints
Swann Galleries
104 East 25th Street,  New York, N.Y.
Todd Weymen, specialist, [email protected]