Pictures from Beyond
"He sustains the living with kindness, resuscitates the dead with abundant mercy… and maintains His faith to those asleep in the dust." We have this faith in our God. And, as we can, we emulate Him. We remember and maintain faith with those asleep in the dust. We carry on their names in the naming of our children, pass on their midos with tales of wonderful grandparents and we maintain faith with them by saying kaddish for at least two generations. And we, of course, set up a marker were they are resting. Sometimes we have even done more on that very marker. This exhibition, Mount Zion, Immortal Portraits, at the John Stevenson Gallery in Chelsea, is one of those ways.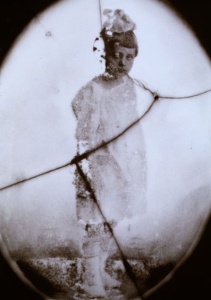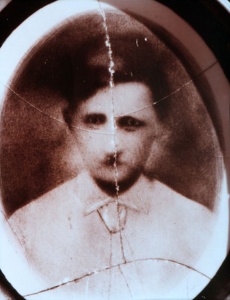 This is an exhibition of photographs of portrait "enamels" that are found on some of the tombstones at the predominately Orthodox Mount Zion cemetery in Maspeth, Queens. These "enamels" are themselves photographic images of the deceased. Using an existing photograph that is often heavily retouched to bring out contrast, these portraits are made by burning the photographic image into porcelain or metal tablets. They were then set into the face of the headstone and sealed under glass. Eastern European immigrants brought this custom to America in the early twentieth century. Initially, this technique was supposed to be permanent, but in fact the results were often more fugitive. This technique was used in this cemetery mainly from 1915 until the late 1920's when, because of the problems of impermanence, it was discouraged and then abandoned.
But many of the pictures survived. The portraits have aged, the glass cracked, the elements, time, and even vandals took their toll. Exposed to constant sunlight and daylight, the images would fade, erode and change in unexpected ways. Some faded so much that only a few details remained, perhaps only the carbon based pencil lines of a helpful retoucher or the random lines formed by the repeated cycles of the sum.
And so the portraits remained, sleeping in the dust of time, until they were discovered by the photographer John Yang. This fine art photographer became captivated by the miniature photographic images he discovered. And, one by one, among the thousands of other headstones at Mount Zion Cemetery he has photographed them. He spent almost five years searching for them at Mount Zion and photographing each one with large format view cameras, ranging in format from 4" X 5" to 11" X 14". Mr. Yang has done a number of other long scale projects in New York. Most notable is his book of ornamental stone carvings, "Over the Door: The Ornamental Stonework of New York." His prints here are all one of a kind contact prints, printed on very special paper in subtle tones of blacks and browns. And now the sepulchral portraits, thrice removed, take on yet another life of their own.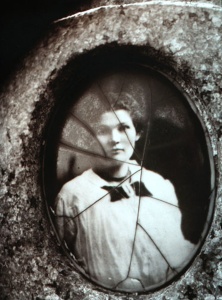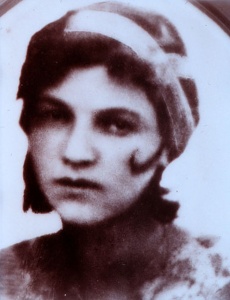 We see a delightful little girl, her hand playfully poised over her head. Her portrait is one of a few we see set into the tombstone. She smiles back at us across time, from her niche set into the gravestone carved with a bird and foliage. We don't know whether her picture was taken one year or thirty years before her death. Out of respect for the dead, none of the portraits are identified. Not their age, their status nor the date of their death is revealed. No facts, only an elusive image of the person themselves peers at us from the stone.
There are a number of photographs of children, many full length, often in their Shabbos best. We can see that frequently these are not formal photographs, rather simply snapshots. When death came, this was what was an available memory. We are reminded that there was a terrible flu epidemic in New York in 1918 and we may be seeing the only visual memory of some who perished.
John Yang, the photographer, is deeply interested in the people depicted here. It is the Jewish community's heritage of remembrance expressed in these enamel portraits that drew him back year after year. But more and more his fascination was with the process of change itself. Change over time, effected by the elements and all recorded in the defects and idiosyncratic effects that time had on these enamels. Therefore, almost all the prints we see in this exhibition are in a larger than life format and of the facial image itself. This enlarges the images so that each crack, vanished detail and faded feature becomes the subject just as much as the person themselves.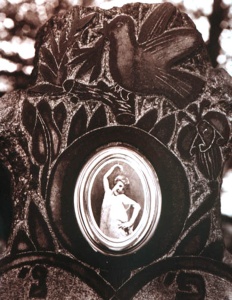 A smiling face of a bar mitzvah boy, slightly out of focus, radiates his joy and pride from across the years. We realize how few details we need to see in order to understand a full story that we know so well. It is startling that the power of a simple image continues to capture our imagination and draw us back to lives long gone, to speculate on the joys and sorrows that they faced here in New York.
It is perhaps these two experiences that makes this exhibition so moving. One, our ability to recognize a whole life from a simple photo is effectively compromised by our realization how much that image is subject to enormous change over time. It is here that we understand our limitations. We remember and keep faith, but imperfectly. And the Ribbono Shel Olam, "maintains his faith to those asleep in the dust" exactly as they were, complete and whole. It is unusual exhibitions like this one that can remind us of these truths.
Mount Zion: Immortal Portraits; Photographs by John Yang
John Stevenson Gallery, 338 West 23rd Street, New York, NY (212) 352 0070
This exhibition is accompanied by a book just published called Mount Zion: Sepulchral Portraits by John Yang, published by D.A.P.
Until May 15, 2001