Rina Castelnuovo: Photographs
Iconic images are rare, especially in the mundane world of photojournalism.  But when they happen their intense simplicity compresses a host of ideas and emotions in a single picture, making complexity seem transparent. Israeli photojournalist Rina Castelnuovo excels at this skill.  Her first solo exhibition currently at the Andrea Meislin Gallery is a breathtaking tour-de-force of photographic insight focusing on the complex reality of Israeli life.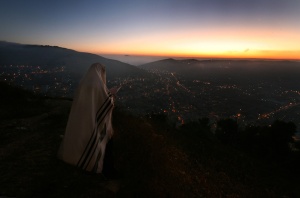 Nablus, West Bank (Mt. Gerizim) (2009) unfolds before us slowly, just as the rising sun is about to illuminate the man praying in tallis and tefillin overlooking the still sleeping city.  Adjusting our eyes we can barely make out the streetlights far below.  Of course the image alone only hints at the intense irony of a Jew in prayer overseeing a Palestinian city.  It's the matter-of-fact title and his ghostly figure that begin the animation of meaning and context, forcing us to juxtapose contemporary political reality with ancient Jewish roots going back to Abraham, Jacob, Joshua and finally Joseph.  To get that in one photograph is quite a feat.
Night images of Joseph's Tomb surrounded by Hasidim provide another view of the city, this one from the inside.  In one particularly stark image we see cast shadows of the men standing outside the women's entrance, eerily poised as the women pray inside the ruined tomb; again the history of the distant past clashing with contemporary violence and tension in this ancient city.
Castelnuovo is well known to American audiences as a photographer for The New York Times who covers Israel in addition to work she has done for Time Magazine, Stern Magazine and the Associated Press.  In some ways her images over the last 15 years have helped shape public opinion here concerning Israel.  This exhibition, sensitively selected and hung by Andrea Meislin, reflects Castelnuovo's consistent efforts to maintain journalistic balance in images selected from her work over the last 5 years; empathy and sensitivity applied equally to the competing sectors of Israeli society: religious and secular; Jew and Arab.  She revels in contrasts and irony and when she finds these elements together the results are frequently spectacular.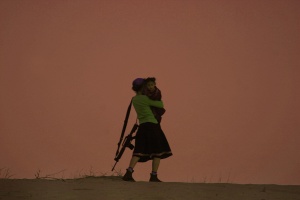 Gush Katif, Gaza (2005) is one of many photographs she took during the expulsion of Jews from their homes in Gaza.  It is among the most iconic of images to emerge from that tumultuous event.  Against a low horizon we see a young woman carrying a child.  At first incongruously, we see the woman's automatic rifle silhouetted against a dark russet-colored sky.  In some sense she is dwarfed by the sky and the barrenness of the land, and yet she is fully in control, purposefully taking her young charge out of harms way.  With what we know about the expulsion, the visual tension and contrasts of a young woman, a small child and finally a gun; all adds up to a bitter and sad commentary on recent Israeli history.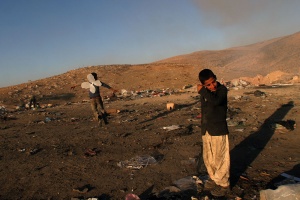 Castelnuovo has an amazing ability to access parts of Israeli society that one might think would be closed to an Israeli woman with a camera.  She seems to effortlessly penetrate Palestinian homes and towns, everyday Israeli life as well as the august confines of Hasidic life.  One of the most magical images in the exhibition is Ad Deirat, Palestinian Authority (2007).  It shows two Palestinian boys scavenging in a garbage dump near Hebron.  But that is not what this photograph is really about.  Rather in the late afternoon sun it pictures one boy standing amidst the garbage in the foreground, smiling and listening to something in his hand, probably a newly found watch.  Behind him and off to the left is another boy leaping in the air wearing a set of angel wings.  The ironic innocence, a magical moment captured by Castelnuovo in the midst of poverty and filth, is what animates this view of Palestinian society.  It represents what curator Andrea Meislin calls "the absurd moments that we can't talk about."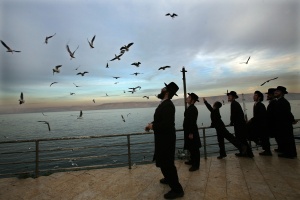 While much of her work as a photojournalist deals with war, societal upheavals and violent clashes, the frequent glimpses of joy seen in this exhibition, like the boy with the angel wings, subtly shapes the tone of these moments from Israel.  Sea of Galilee (2008) presents us with seven Hasidim standing in utter amazement as a flock of sea gulls swoop over the edge of the seaside promenade. The joy and wonder of this encounter with nature creates a riveting moment.  The birds are caught in a wonderful assortment of flying poses while the men and boys below are similarly diverse in gesture; some simply stand looking up, others are pensive with their hands locked behind their backs and yet another youth reaches up in a graceful dance-like motion towards the aviary show, perfectly aligning with the distant mountains on the far shore.
Photojournalism only began to flourish once cameras could take pictures indoors with the invention in 1887 of flash powder. That opened the way for groundbreaking Jacob Riis' How the Other Half Lives.  Within ten years halftone photographs could be reliably reproduced on printing presses allowing the photograph to become a full partner with the print journalist. By the late 1920s the 35mm camera and flash bulbs fully enabled the masters of the genre to thrive including Dorothea Lange, Walker Evans, Robert Capa, Alfred Eisenstaedt, Roman Vishniac, Margaret Bourke-White and W. Eugene Smith.  The salient features of photojournalism are the timeliness of the image to recent events, a sense of narrative that relates the image to the news story or human interest and finally a certain amount of objectivity.  Interestingly enough Castelnuovo is not well known in Israel where a recent study at the University of Haifa (2009) found that Israeli newspapers used archival images in 86% of their news reports. No reason for this phenomenon was given.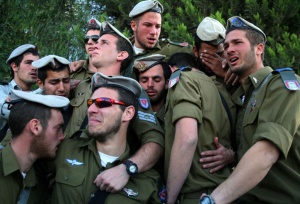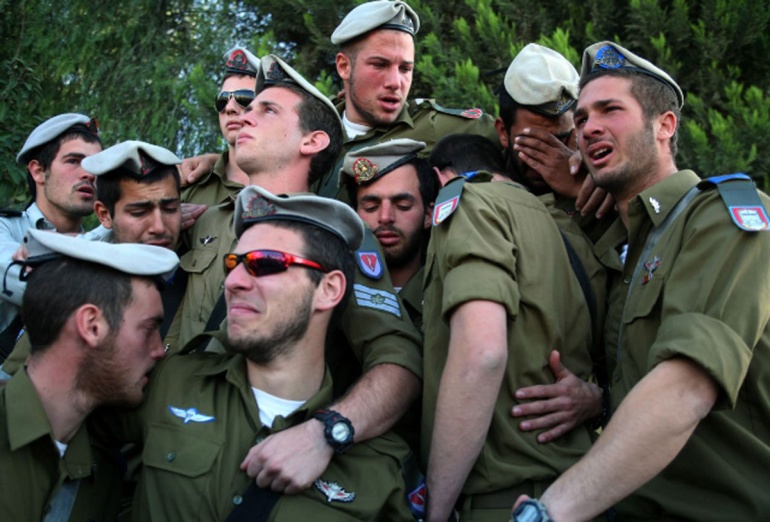 Perhaps it has to do with the attempt to confine pain.  In a country as small as Israel each conflict, tragedy or disaster can potentially touch anyone.  Castelnuovo's Beersheba, Israel (2009) reveals the costs of defending a country, specifically the Gaza operation "Cast Lead."  The image of eleven soldiers mourning a fallen comrade uncover the vast gamut of emotions that death in war evokes.  Perhaps as moving as the empathy evoked is the sight of these tough young soldiers, dressed in military best and even sporting fashionable sunglasses, deeply shaken by the death of one of their own. Funerals seem terribly wrong for men of this age and Castelnuovo's photograph brings that chillingly home.
What makes some images iconic? First of all they must be beautifully and concisely composed.  Then they must impart something unique to a subject we care about.  And finally they must be memorable.  Riva Castelnuovo bravely follows her heart and soul to the cover events and situations that define contemporary Israel. She then patiently waits for the right moments to appear before her and then captures them, fearlessly looking into the guts of Israeli life for revelation and insight. She thereby chronicles, as a photojournalist, the complex and at times painful maturation of the State of Israel.
Iconic Images from Israel
Rina Castelnuovo: Photographs
Andrea Meislin Gallery
526 West 26th Street, 214
New York, NY
Andreameislin.com