Sculpture and the Bible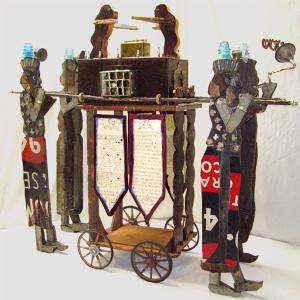 Walking into Howard Lerner's studio is like falling headfirst into a Tanach made of sculpture.  Right near the door is a 10-foot-high Tower of Babel.  Partially hidden behind this behemoth is a thoroughly idiosyncratic Vision of Ezekiel.  Further along into the somewhat cluttered, but not chaotic, studio is a vista of massive sculptures; The Ark of the Covenant looms ahead while Elijah's Ascension is on the left, just past a 10-foot depiction of Enoch.  To be totally honest, it's all a bit frightening.   Every piece is a diverse assemblage of found objects hammering home a specific passage with a literal determination.  It is as if one is inhabiting a Biblical Hall of Mirrors, each holy book or personage examined scrupulously, exaggerated and then lovingly depicted.
The Tower of Babel (2008), made of wood, metal, paint and countless found objects, took a year to make.  It imposes an eclectic contemporary vision on the most ancient of human follies.  The six levels surmounted by a fabricated heaven celebrates countless luminaries including Eisenhower, Yehudi Menuhin, Edward R. Morrow and other selected 20th century leaders, good guys and bad guys alike.  All the way down at the bottom we see Hitler hanging himself over a Sanka coffee can.  We can find, not surprisingly, snippets of languages pasted therein; including French, Arabic, English, early Phoenician, Russian, Hebrew, Sanskrit and Chinese.  The composition is unified by two serpents that twist in and out of one level to the next, their sensuous forms rising up from the base creating a Caduceus of pagan unity.  This could be a vision of a world gone wrong.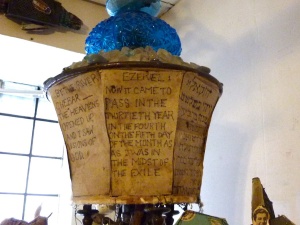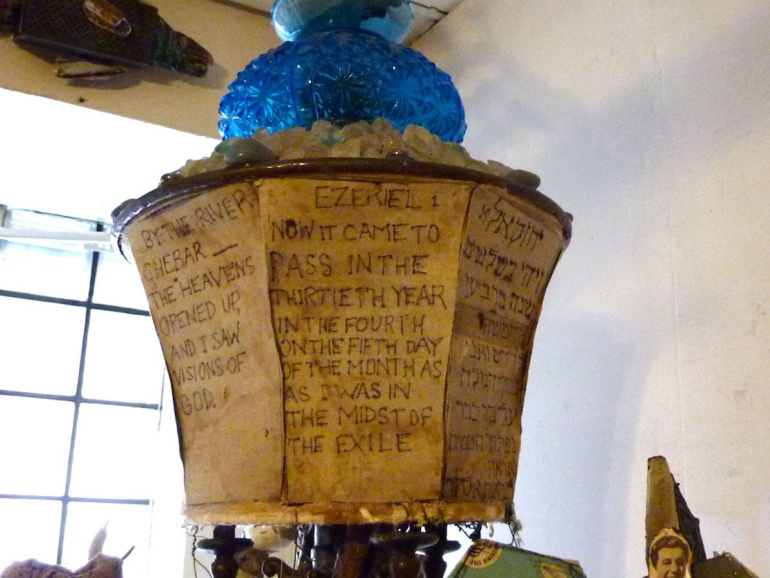 Ezekiel's Vision (2006) is a bit sparer, with more emphasis on text. The first chapter of Ezekiel is a natural inspiration for Lerner as he plunges into a multitude of visual metaphors and signs for prominent textual passages. The sculpture is a wobbly jumble atop a skinny-legged base, effectively building to the very top with a pair of hands in Priestly Blessing that support the Tetragrammaton.  The blessing initially reflects the fact that Ezekiel is herein named a Cohen.  But there is more.
According to the artist the entire vision is meant to elevate the viewer towards seeing the Throne of God and thereby literally ascending to Hashem, The Name, at the very top of the sculpture.  Moving downward we encounter a blue cut-glass light fixture that sits atop an inverted lampshade, its panels used as a makeshift parchment scroll for the first dozen verses of the prophet's famous Vision of the Chariot.  Further down into the body of the sculpture an old fashioned bellows is aptly labeled "ruach," and is balanced by a box of auto lamps attached to a disk labeled "Hashmal – Electrum."   Just above them gerbil cages abound inset with myriad depictions of eyes reflecting the divine creatures Ezekiel saw.  Lerner's choice of utilizing extremely mundane objects, preferably old objects, is part of his strategy of asserting the spiritual potential in everything through an ancient vision.
Howard Lerner has been exploring Jewish subject matter for over 20 years, primarily as a painter until he turned to found-object sculpture in 2002.  I first saw his work in an exhibition we were both in The Binding of Isaac curated by Ori Soltes in 1996.  His haunting image of Isaac atop the altar with a tree growing right through the center and finally transformed into the wings of an angel was unforgettable.  He has exhibited widely including an exhibition at the Philadelphia Museum of Jewish Art (2008) Visionary Biblical Sculpture, Found Object Constructions.
He approaches his subjects with a heady combination of Jewish mysticism and Kundalini Yoga meditation, bringing to bear on each work the mystic power of Hebrew letters, Sanskrit and his own visions. "My goal in creation of this work was to 'commune' with myself and the viewer the mysteries behind these Biblical stories."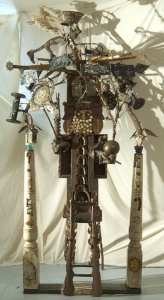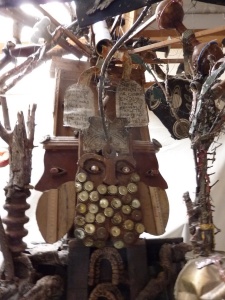 Enoch – Heaven is clearly a sculpture of a figure standing.  His head is one of the most charming depictions in the studio, golden crystal eyes glowing above his bottle cap beard, the very image of an ancient Middle Easterner.  His face is framed by two profiles of perhaps his own visage, hinting at his self-consciousness at being favored by the Divine. "And Enoch walked with God, and he was not: for God took him."  As Enoch begins his ascent to heaven his skinny legs sprout flames, he holds a golden orb (actually a toilet tank float) that sprouts a miraculous bush. A winged angel, Uriel, floats above and channels Divine secrets to Enoch in the form of two scrolls over the sage's head.
Perhaps one of the most poetic of his artworks is Noah's Ark (2006), an ode to a kindred spirit, a fellow collector.  Conceived as a relief sculpture the ark is fashioned from a sheet of tin ceiling material, evocative windows cut out and all manner of stuff attached to form a rudder, prow and keel.  The captain's cabin and main deck are a treasure house of collected chazzerrai while through the windows below one can see a gaggle of parrots riding out the flood.  On the rear deck sits Noah himself preparing to send a fragile white dove out on a reconnaissance mission.  An Indian zither makes up the quarterdeck at the stern, alluding to the almost musical poetry of God's promise: "And God said… to set my bow in the clouds…" to remind Him of his covenant of peace with mankind.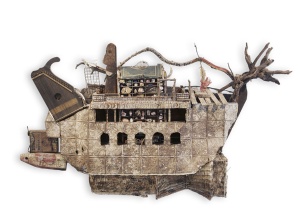 Howard Lerner's artwork is a symphony of opposites.  His work is profoundly textual, demanding a deep knowledge of Biblical text to just begin an appreciation of his myriad allusions.  Yet since it is made up of found objects that morph back and forth between their mundane reality and a transformed image, their physicality is constantly demanding recognition even as they try to be something else; like a lampshade that doubles as a holy scroll.  Furthermore the overwhelming thematic emphasis on spirituality is constantly confronted by the unavoidable physical presence of these three dimensional sculptures. But perhaps this paradox may be exactly what makes his works so fascinating.  Biblical subjects, whether narrative or not, are almost never what they seem.  They offer the possibilities of opening up another universe, another consciousness, a door to a greater reality in which the Divine can be glimpsed and perhaps approached.  Howard Lerner's sculptures hold that door open for us.
Howard Lerner's Universe
Sculpture and the Bible
Howardlernerart.com