Bonhams & Sotheby's Judaica 2013
It is a rare season indeed when two major auction houses are showing not only resplendent offerings of Judaica, but also multiple examples of highly unusual and rare Jewish themed fine art.  That is indeed the case right now both at Sotheby's December 19th auction and the Bonhams recent December 10th auction.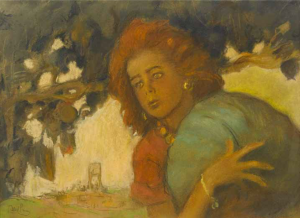 Bonhams (founded 1793) inaugurates its Judaica department with this sale, curated by consulting Judaica specialist Dr. Rachael Goldman. Outstanding are the multiple examples of Abel Pann's (1883-1963) works, especially the two representations of the biblical Hagar.  Her iconic role as the consummate outsider is brilliantly expressed in Hagar, a pastel depicting the young red headed maiden clutching a bundle of her belongings just as she was expelled from her master's house by the furious Sarah.  Her greenish eyes and flaming hair mark her not only as exotic (typical in Pann's vision of biblical women) but forever an outsider. In contrast Hagar and Ishmael presents a conundrum between the image and its title.  As the biblical text makes abundantly clear, Hagar's role as a young fertile maidservant easily provided Abraham with a male child, Ishmael, to inherit his legacy.  In stark contrast in the Pann image, the woman who holds the infant Ishmael is a heavily wrinkled middle-aged woman, surely more appropriate as a grandmother than a young parent.  Regardless of the dichotomy, the image is powerful and tender.
The appearance of a Maurycy Gottlieb (1856-1879) painting at auction is a rare event, with only a handful seen in the last 10 years.  And even though there are now close to 300 works documented by this tragically short-lived artist (he died at the age of 23), most of those works are drawings and sketches.  Ocalenie Rechy is a signed oil painting representing a subject of central importance in this seminal Jewish artist's output. According to Ezra Mendelsohn, author of Painting a People: Maurycy Gottlieb and Jewish Art  (Brandeis, 2002): "As for Gottlieb himself, one of his illustrations to 'Nathan the Wise' perfectly expresses his own powerful universalist impulse. It is entitled The Rescue of Reha from the Fire (1877) [the Bonhams painting] and depicts the Templar, a Christian knight, saving the life of Nathan's daughter.  The Templars were fanatical enemies of both Judaism and Islam, yet in this scene humanism triumphs over profound religious hostility.  This is, of course, the theme of Lessing's play, whose eponymous hero was modeled after Moses Mendelssohn himself."  The persistent ideology of universalism that strove for Jewish reconciliation with gentiles and Christianity first arose in the post-Emancipation Enlightenment.  This Gottlieb painting may be one of the most significant expressions of this notion in liberal Polish artistic circles.
As one of the "founding fathers of Pop Art," Larry Rivers (born Yitzhok Grossberg, Bronx, NY) is not normally found in Judaica exhibitions; and yet we have here the highly unusual David and Goliath (1982).  This spirited drawing depicts the moment David removes Goliath's sword from its scabbard in order to behead the fallen giant.  Unlike most depictions of this subject that show either the initial confrontation or David contemplating the Philistine's severed head, Rivers concentrates on the mundane process of consolidating triumph.  Soon after this drawing Rivers was commissioned to create his monumental (116″ x 180″) History of Matzah: the Story of the Jews shown at the Jewish Museum in 1984 and later donated to Yale University.  While this drawing would seem to be the only biblical theme among a handful of Jewish themed works, significantly he also did illustrations to Singer's The Magician of Lublin (1984).
Curator Rachael Goldman has striven to broaden the definition of Fine Judaica as part of the mandate to reach out to a new generation of Jewish Folk Art collectors, specifically including women's themed objects such as 17th and 18th century needlework and embroidered works representing Rebecca at the Well and the Judgment of Solomon, as well as many pop and kitsch objects.
Three paintings at Sotheby's similarly call out for attention.  Alfred Lakos' (1870-1961) Pogrom Survivors (1918) is remarkable for its understated contemplation of horror.  This Hungarian artist's works specialized in Jewish genre, communal and occasional biblical themes and refused to flinch from the negative aspects contemporary Jewish history (see June 20, 2013 review of Kestenbaum Auction). While Hungary itself would undergo a time of pogroms after 1919 known as the "White Terror," almost certainly this painting reflects the Russian and Ukrainian pogroms prior and after the Russian revolution, specifically the Lwow Pogrom of 1918 in which scores of Jews were murdered and many more injured, raped and brutalized by Polish soldiers, local civilians and criminals.  The incident provoked international protest and resulted in enactment of minority protections for the Jewish population in the ensuing Polish government.
The painting depicts five distraught individuals, momentarily resting after fleeing the burning destruction on the horizon behind them.  Each person is engulfed in his or her own universe of sorrowful contemplation; looking down, eyes closed with the exception of the young woman at the end.  She casts a mournful glance off to the right leading us to imagine what horrors she survived and who did not.  The inaudible tension of pain and dread fills the image making it a masterpiece of pre-Holocaust art.
What would a Sotheby's Judaica sale be without a Kaufmann rebbe painting?  And while this artist's images may have become a bit too familiar, this offering, Portrait of a Young Rabbi ca. 1897, actually provides an unexpected insight into Kaufmann's world.  The young man depicted is handsome and forcefully confronts the viewer, posing before a strikingly contemporary design.  Indeed this is the same "Torah curtain" design from a documented 1897 painting currently in the Tate Gallery, London, which may be of the rabbi of Nadorna referred to in correspondence of the same year.  But here the "Torah curtain" design simply looks fashionably Viennese. The original gold-leaf Kaufmann fame similarly locates the artwork as destined for an affluent fin de siècle Jewish clientele; multiple Magen Davids boasting its Jewish identity along with its Hasidic subject.  This is the commodification of Jewish religious culture; powerful, beautiful steps in assimilation.
Much of Moritz Oppenheim's work also addressed the assimilation of the 19th century German Jewish communities.  His famous and widely collected Family Scenes from Jewish Life of Former Days (1866) was crucial in negotiating the stresses between traditional observance and post-Emancipation modernity. The Kidnapping of Edgardo Mortara (1862) confronted one of the most shocking events that faced 19th century European Jews. In 1858 a 6 year old Jewish child was kidnapped from his home in Bologna by Papal authorities based on the claim that the child had been secretly baptized by a Catholic servant girl when he was a seriously ill infant.  According to Papal law a non-Christian was forbidden to raise a Christian child, hence the necessity of forcible removal from his Jewish parents. International outrage ensued from all quarters but to no avail as Pope Pius IX stonewalled all attempts to return the child to its parents. Edgardo, who died in 1940, eventually became a priest and staunchly defended the Church's actions.
The painting is quietly understated, concentrating on the innocent figure of the 6 year old, one hand held by a brown robed monk and his other hand lost in the shadows, and his grief stricken mother who has fainted dead away.  An older brother defiantly stands nearby, drawing the eye to the distraught maid in the background and then further into the warm sanctuary of the home with a just visible traditional hanging Shabbos lamp.  The drama unfolds as little details emerge: the mezuzah on the courtyard archway further bespeaks the family's Judaism while the future is implied by the nun hovering with a tiny coat that will replace Edgardo's miniature tallis katan just visible against his white gown.  The solemn faced black-robed priest exercises his inscrutable power as the boy's father is frozen in his attempt to rescue his son.  Eschewing traditional pictorial drama, Oppenheim nonetheless drives home the travesty that has been perpetrated against this family and the entire Jewish community under Papal rule.  It is Oppenheim at his most persuasive creating a painting ripped from the headlines.
The rest of the Sotheby's sale of course has much to recommend; not the least being a lavishly embroidered Italian Torah Binder (ca.1700), an unsettling illustrated Supplement to the Haggadah from 1946 Munich, Germany and a sterling selection of 17th and 18th century illustrated Megillot Esther.  Needless to say, this concentration of substantive Jewish fine art makes this exhibition and auction one not to be missed.  It should be noted that both the Bonhams and Sotheby's excellent catalogues are available online accompanied by truly illuminating scholarly notes.
Bonhams: December 10, 2013
Fine Judaica: 1pm
580 Madison Avenue at 56th Street, New York, New York
bonhams.com
Sotheby's: December 19, 2012
Important Judaica – 10am
Israeli & International Art – 2pm
1334 York Avenue at 72nd Street, New York, New York
Exhibition: December 12 – December 16, 2012  sothebys.com