Response Art Series
There is a short list of things that really matter: family, friends, country and faith top most.  For many Jews, our people and Israel occupy an almost sacred place in the order of commitment and passion.  Therefore when either the Jewish people or the legitimacy of the State of Israel are attacked and slandered, we react passionately.  In a visceral way these things are crucial to the very core of our identity. How do contemporary Jewish artists respond?
The answer is emphatically provided by two exhibitions in September at the Dershowitz Center Gallery at Industry City (Bush Terminal) in the Sunset Park section of Brooklyn.  The Response Art Series created by Sheryl Intrator and Artists 4 Israel has challenged New York area artists to create work that support Israel's right to exist in peace and security.  All of the works are newly created and are in response to a recent series of pro-Israel lectures, panel discussions and the Fogel family memorial service at Congregation Kehillat Jeshurun in Manhattan.
Terror: Artists Respond curated by Chava Evans and Yona Verwer (in collaboration with Jewish Art Salon, Art Kibbutz NY and Mima'amakim) solicited an international group of artists to submit works that reflect their reaction to terror attacks in the ten years since 9/11.  Both shows demonstrate the passionate response of Jewish artists to these dual threats: accusations of illegitimacy and random violence and murder.  The result is moving, creative and devastating.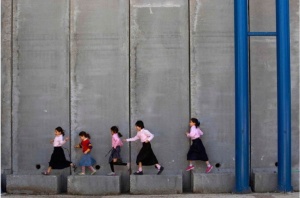 Dan Keinan's riveting and ironic image of five religious girls running and playing on the concrete base of the security wall introduces us to a seldom explored side of the consequences of terror.  While the barrier's deleterious effect on Palestinians has been endlessly used in anti-Israel propaganda, the effect on Israeli youth has been seldom explored as effectively as this image, Growing under Concrete.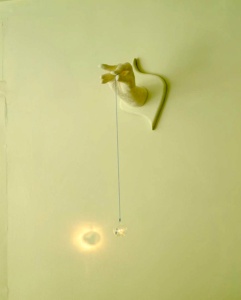 In the Response Art series Dorene Schwartz-Weitz's plaster relief Hanging by a Thread is an elegant commentary on one aspect of Israeli existence. While generally life in Israel is overwhelmingly normal, there is the nagging realization that in an instant tragedy could explode with a suicide bomber, missile strike or vicious personal attack. A hand of God mysteriously emerging from the sky is frequently shown in ancient Jewish mosaics (Beit Alpha) and paintings (Dura Europos) and here Schwartz-Weitz's image utilizes the same motif to interrogate the role of God in terror attacks.
Jewish artistic responses to attacks against Jews have a particularly rich history, especially in the 20th century.  Holocaust art is of course a prime example with one of the earliest examples, Marc Chagall's White Crucifixion (1938), the artist's challenge to Judaize this iconic Christian image into a scathing examination of European Jewish suffering.  Noteworthy among many other examples is Arthur Szyk's Haggadah (1934-1936) that reconceives Egyptian cruelty as a direct predecessor to German oppression and anti-Semitism.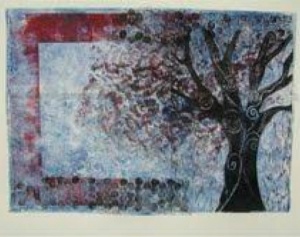 Ksenja Pesaric's response utilizes the ancient symbol of the Burning Bush in a unique metaphor.  Her painting shows the bush disintegrating even as it remains resolutely whole, effectively a questioning comment on the seemingly endless attacks on Israel.  While the biblical burning bush represented the mystery of God's fidelity to the Children of Israel, in the extended metaphor surely it is too much to ask the Jewish people to endure constant flames of hate.  And yet we have no choice.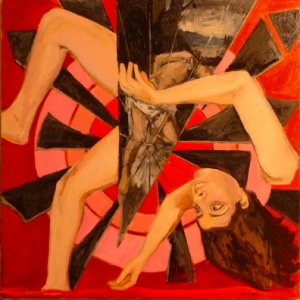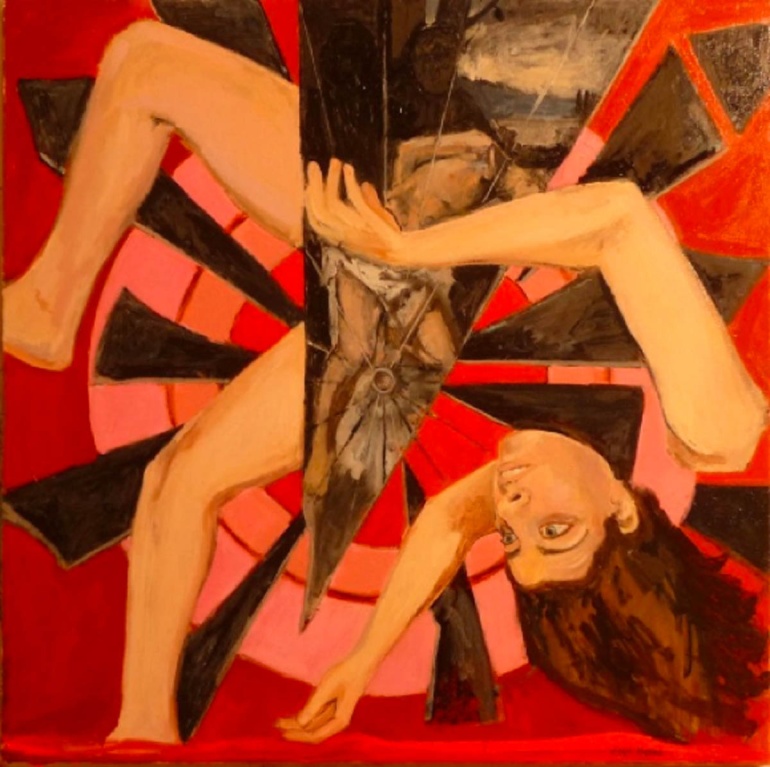 The visceral reality of terror is disturbingly explored in Eden Morris's Sacrificed. Starting with a blood-red target Morris presents us with the broken image of a woman literally sliced apart by an angry triangle of glass painted with a Renaissance image of a martyr.  We see the young woman's shocked face, eyes wide-open locked in a lifeless stare.  Terror has become personal, violent and unbearable.
It is the unbearable nature of baseless hate that causes Jewish artists to react with such originality and passion.  In the last 20 years two artists have notoriously created responses in the postmodern form of the graphic novel.  Art Spiegelman's Maus (1986-1991) casts mice as the Jews and cats as the Nazis to retell his father's survival of the Holocaust and post-war travails.  It simultaneously creates distance and intimacy in the search for understanding and closure in a Holocaust survivor's offspring, the author and artist himself.  In a radically different approach to dissecting exactly where anti-Semitic hate come from, Will Eisner's last graphic novel, The Plot: The Secret Story of the Protocols of the Elders of Zion (2005) traces the history of the Protocols first fabricated by Tsarist secret police and then promoted by Henry Ford, Adolf Hitler, Klux Klan and Islamic fundamentalists among countless others.  This is the "father of the graphic novel's" (NY Times) heroic attempt to set the record straight for his people and help turn back the tide of hate.
Both exhibitions at the Dershowitz Center Gallery have a plentitude of outstanding works of art supporting Israel and uncovering the dangerous face of terror.  The Response Art Series will show close to 70 works by over 27 artists.  The Terror: Artists Respond is also showing approximately 27 artists, including many who have worked with significant Jewish content before; including Barry Frydlender, Tamar Hershl, Robert Kirschbaum, Batya Kuncman, Yona Verwer, Julian Voloj, Ahron Weiner and Adi Nes. In a way the Response Art Series presents a greater challenge to the artists since notions of national legitimacy and rights are broad concepts with few narrative clues for visual translation.  Terror, on the other hand, is by its very nature concrete and narrative and thereby more directly translatable into images.  That observation aside, both shows deal with complex and terribly important issues courageously and forthrightly.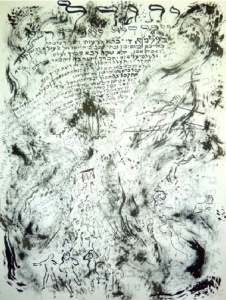 When all is said and done it is Jewish faith that drives love of Israel and the Jewish people.  Shoshannah Brombacher's hallucinatory Kaddish seemed to sum up the locus of that faith, much as the kaddish itself, said countless times each day.  The kaddish is unique in Jewish prayer, never mentioning God directly and, as a form of praise and celebration of God, only refers to "the Name" as the object of our adoration and blessing. It is the abstract nature of the kaddish, both in mourning and in praise, that allows us to focus on the actual substance of what we believe.  Brombacher's image mysteriously mixes the Aramaic text with fleeting images, snippets of figures dashing off the page, smudges of explosions interspersed with blotches of black that summon violence and blood.  And yet in this chaos we insist on our faith in our God.  This is why these artists effectively had no choice but to respond to the threat in our time to that which we hold dear.
Artists 4 Israel: Response Art Series
Terror: Artists Respond
Dershowitz Center Gallery
Industry City – 220 36th Street
Brooklyn, NY